Sharing Folders with Web Links
---
Share Files & Folders virtually anywhere!  Use this method to share content with non-Web File Share users.  You can quickly & easily create and share Web Links to share photos, videos, or any other file type on Internet websites.  The links can be password protected, have expiration dates, and more.  Linked files can be sent via e-mail, posted on Facebook or embedded in virtually any website.  Linked audio and video files support streaming!

You can use web links to publish photos, videos, or any other file type on Internet websites, or to share with other people via e-mail or chat.
To create a web link for a file follow these steps:
Right-click a file and select "Share" → "Web link"

A popup will open and a text field will be displayed, containing the URL (web address) that can be used to access the file.
Use the displayed form to change the link's settings or remove the web link by clicking the "Remove link" button.
To create a web link for a folder works exactly the same as for a file.
---
---
Testing your Web Link
Select the "Open" button to test your web link.  This allows you to see & experience what your end user will see before sharing the link.
Sharing files & folders externally on the internet with links
Your Web File Share site must be accessible from the internet in order to share files and folders with others across the internet.  In order to share your site externally, you will will need to make site available through your router/firewall.  It is also recommended that you have a public static IP address.
---
Example of Sharing a Folder Web Link in Email
Folder links can be easily shared in email.  See the example below.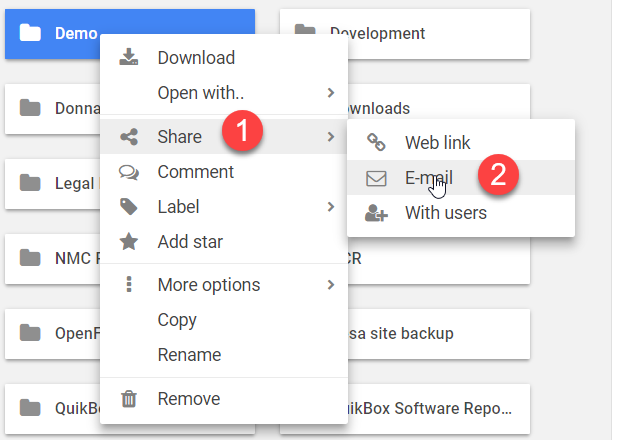 ---
Removing a Web Link
To remove the Web Link, go to the Web Link of the folder.  Select the "Options" tab.  Select the "Remove Web Link" button and "Save Changes".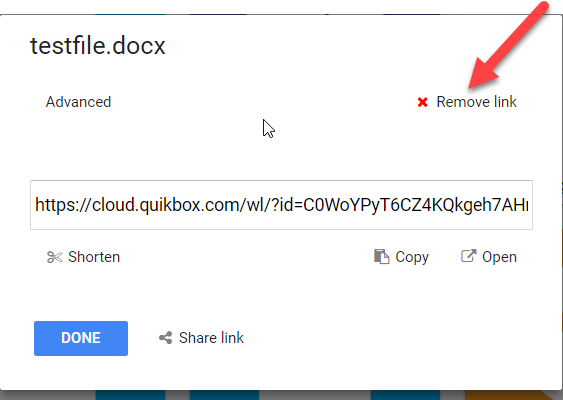 ---
---
Article ID: 260
Created On: Sat, Nov 16, 2013 at 8:03 PM
Last Updated On: Fri, Nov 24, 2017 at 3:23 PM
Authored by: Administrator [support@agentsupport.net]
Online URL: https://kb.quikbox.com/article.php?id=260