How To Use Your Client IM (Instant Messaging)
Article ID: 825 | Rating: Unrated | Last Updated: Mon, Feb 20, 2017 at 11:49 PM
How to use your Client IM (Instant messaging)

 
To send an instant message double click on the user you would like to send a message to.
The instant message box will pop up and you can begin to use your  QuikBox Client Instant Messaging System.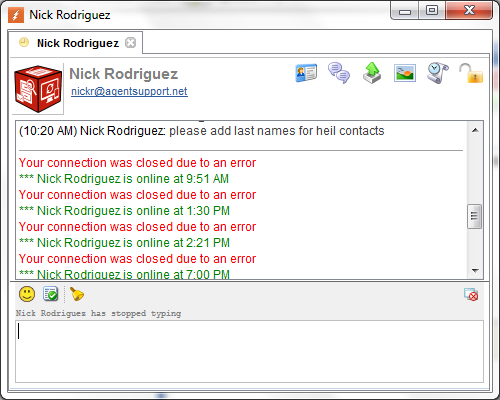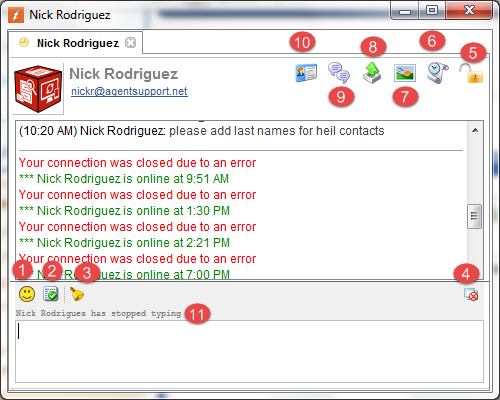 Emoticons- a representation of a facial expression such as :) (representing a smile), formed by various combinations of keyboard characters and used in instant messaging to convey the writer's feelings or intended tone.
Spell Check- With this option when you select it, a pop up box will appear and show you the first word that it doesn't recognize. It will begin with the first word then proceed to the next one. You may choose to just edit that one word or all words in the message and correct them.



Bell- The bell is to get the attention of the other user. Their message box will begin to shake continuously to get their attention.
Always on Top- This means when it has the "

X

" over it you can go to other windows that you have open. If the "

X

" isn't there then the message box will stay on top of the other windows that you have open. You can't switch from window to window, unless you click the minimize button and the box will lower.
Message Encrypt- This allows you to enable message encrypt between two IM Client in the message box. This is specifically helpful if you're working outside the office and you're connecting to the QuikBox remotely. I.E Working from home. Choosing this option the other user needs to accept the invite to enable it.
View History- This option will allow you to go back and look at the previous conversations in the past between you and this user.
Screen Capture- This option allows you to take a picture of what is on your personal computer screen and send it to the other IM user.
Send Files- This option allows you to send personal files from your computer to the other user in the IM message box.
Invite Conference- This option allows you to invite another QuikBox IM  user to the conversation.
View Profile Information- This option will you show you the users contact information. I.E. telephone number; email etc.
Status- This part of the message box will tell you if the other user is focused on your conversation or if they are typing etc.